News
Rapid games at the"Vugar Gashimov Memorial-2022" have ended.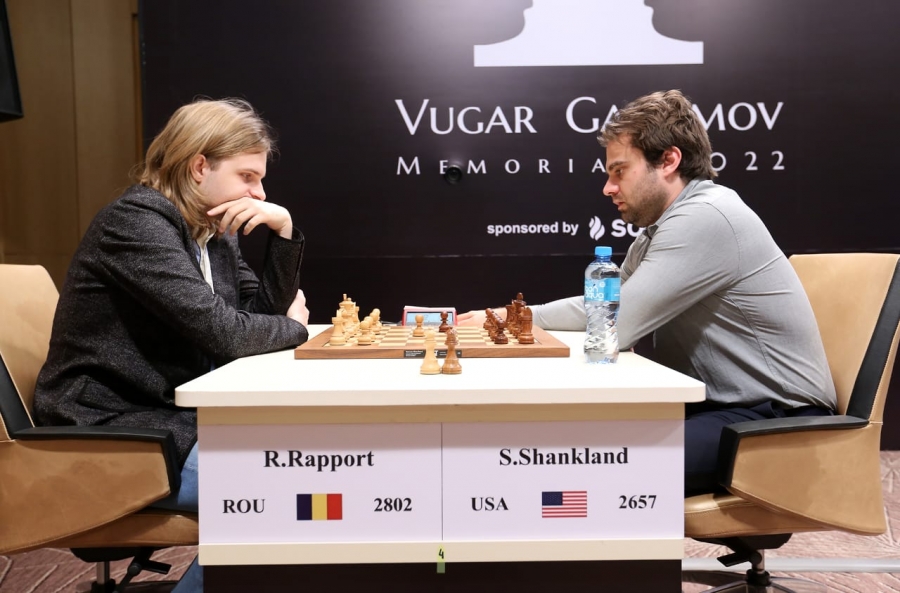 In Baku, rapid competitions were concluded at the VIII international supertournament dedicated to the memory of outstanding chess player, European champion, international grandmaster Vugar Gashimov.
In the first three days of the Memorial, 10 chess players showed their strength in the rapid tournament.
On the third day of the game - December 20, the parties of the last 3 rounds were held.
In the seventh round, one of the representatives of Azerbaijan, Aydin Suleymanli defeated his teammate Shahriyar Mammadyarov.
Uzbek Nodirbek Abdusattarov defeated Rauf Mamedov and Richard Rapport defeated Samuel Shankland. Abdulla Gadimbayli with Vallejo Pons and Gukesh D with Wang Hao agreed to draw.
The first move in this round was made by the president of the Azerbaijan Chess Federation, the vice-president of the International Chess Federation, Mahir Mammadov.
S. Shankland and V. Pons won in the eighth round. They were better than G. Dommaracu and V. Hao, respectively. N. Abdusattorov and R. Rapport, R. Mammadov and Sh. Mammadyarov, A. Gadimbayli and A. Suleymanli agreed to draw.
Sh. Mammadyarov and R. Mammadov finished the last round with victory. Sh. Mammadyarov, playing with white pieces, defeated A. Gadimbayli, and R. Mammadov, playing with black pieces, defeated R. Rapport. A. Suleymanli and V. Hao, G. Dommaracu and N. Abdusattorov drew with each other. V. Pons won over S. Shankland.
N. Abdusattorov, who has 14 points in his account, continues to lead in the tournament table. V. Pons and R. Mammadov share the 2nd and 3rd places with 12 points. V. Hao is fourth with 10 points. R. Rapport, Sh. Mammadyarov are 5-6th with 8 points, A. Gadimbayli, G. Dommaraju are 7-8th with 7 points, and S. Shankland and A. Suleymanli are 9-10th with 6 points.
There will be a break in the tournament on December 21. The blitz competitions will start the next day. The winner of the tournament will be determined at the end of the rapid and blitz competitions.