News
The closing ceremony of the 7th super tournament dedicated to the memory of Vugar Gashimov took place.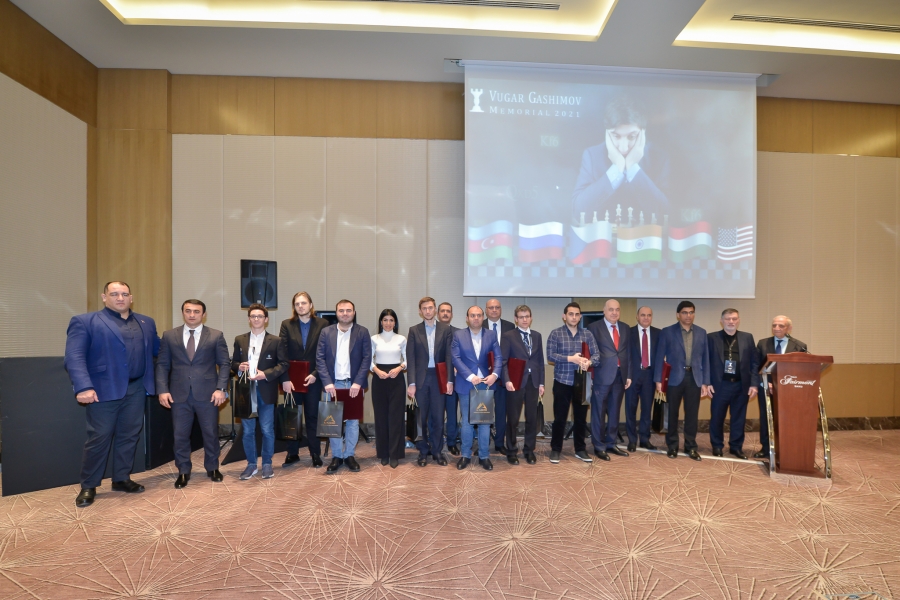 The closing ceremony of the 7th super tournament dedicated to the memory of international grandmaster, famous Azerbaijani chess player Vugar Gashimov took place in Baku on December 23.
At the event,the President of the European Chess Union Zurab Azmaiparashvili praised the importance of the tournament.
"I really enjoyed the tournament. The mass media of the country also showed great interest in the competition. I thank the government of Azerbaijan and the organizers for their support in holding such a tournament. The determination of the winner in Armageddon added additional excitement to the tournament. Not everyone wins. My friend, former world champion Viswanathan Anand from India, took part in this tournament. Although he is not among the winners of memorial, I wish him success in the next competitions. " Zurab Azmayparashvili said.
Inviting everyone to play chess, Zurab Azmayparashvili wished success to all participants.
The director of the tournament, Honored Coach Anar Allahverdiyev, said that the six-day tournament was remembered for its intense sports competition and interesting chess games.
He said that the "Vugar Gashimov Memorial-2021" will be remembered in our country as the last large-scale sports competition of the year. The tournament was held in a cordial and friendly atmosphere. I thank the participants and judges for this.
By noting the fact that the main purpose of the Vugar Gashimov Foundation is to convey and promote the creativity of the prominent chess player to other intellectuals, Anar Allahverdiyev said: "Our other goal is to open wide opportunities for young athletes and attract children to chess. I was with Vugar in the first steps of his chess career.
We participated in many competitions with him for 15 years. I know everything about him. I saw how the participants of the tournament treated to Vugar. Your grief and tears while visiting the grave of Vugar Gashimov are a great tribute to him".
Then the chief judge of the tournament Faig Hasanov announced the results of the competition.
In the end, the father of Vugar Gashimov, the chairman of the organizing committee, Gasim Gashimov, presented the trophy of the tournament to the US chess player Fabiano Caruana.
The participants of the tournament were presented with souvenirs.
Expressing gratitude for the high-level organization of the competition, Gasim Gashimov congratulated everyone on the upcoming Day of Solidarity of World Azerbaijanis and the New Year, wished success to the participants and declared the tournament closed.
It should be noted that the 7th Vugar Gashimov Memorial was organized by the Vugar Gashimov Chess Foundation, supported by the Ministry of Youth and Sports, the Azerbaijan Chess Federation and sponsored by SOCAR.
First Vugar Gashimov Memorial was held in Shamkir in 2014. Current world champion Magnus Carlsen won the tournament four times (2014, 2015, 2018, 2019), while Azerbaijani chess player Shakhriyar Mammadyarov won the tournament twice (2016, 2017).