Media
Scoring a Double Four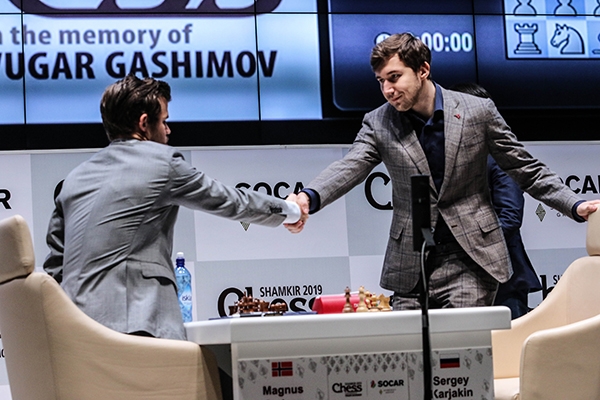 Eteri Kublashvili's report from Round 8 of the Vugar Gashimov Memorial
With four draws and equally many wins, Carlsen has become a 4-time winner of the Vugar Gashimov Memorial. Playing Black in round eight, the Norwegian outplayed Sergey Karjakin.
The GMs opened with the Sveshnikov Sicilian.
"They keep playing 7.Nd5 against me, which I am happy to see because it leads to interesting chess," said Carlsen.
After White's move 10 it could have been a draw by repetition, which suited Carlsen in terms of the current tournament situation. Sergey burned a lot of clock, which backfired later in the game when he found himself in a severe time pressure.
On move 15 the Russian sidestepped from Caruana's continuation in the world championship match in favor of Houdini's move against Stockfish from the TCEC championship.Five moves later Black sacrificed the h5-pawn and got compensation for it.Pressed for time, Sergey started committing inaccuracies.
Karjakin – Carlsen
25…c4 26. Nc3?!
Carlsen dubbed this move an error. Stronger was 26.Qc2, which he intended to meet with 26…Re8.
26…b5 27. Qd1 b4 28. Na4 – the champion characterized the knight on the edge of the board as an ugly piece.
28…Be4 29. Qd4 Qf5
30. f4? is underwhelming as it makes the g3-pawn weaker. More stubborn was 30. f3.
After 30…Qg6 the Norwegian considered White's position busted. "The difference in strength of the pieces is just too massive." White resigned after Black's move 39.
Game analysis was followed by Magnus Carlsen's honest answering of many a question from mass media in a detailed and humorous style
The world champion was happy about his encounters with Anish Giri and Sergey Karjakin, which he characterized as interesting games played in a dynamic style.
I asked whether psychology and intuition were important for him in chess. The world champion confirmed its importance and that he tried to use the engine as little as possible because preparing for the game is more about psychology than particular moves. "Thus, the engine evaluates the line from the game with Sergey as slightly better for White, but it says nothing about White or Black having an easier play. White is up a pawn, but the stakes are higher for him at that. I aim at checkmating him, which he needs to defend against. This is why psychology is a huge part of the game."
The winner praised the organizers for having created excellent playing conditions, which he mentioned as contributing to success as well.
Magnus said that comparing to the Magnus that won here the first time, the current Magnus knows a lot more about chess, as well as having a wider array of weapons in his arsenal."
I clarified if he was feeling a threat from such young talents as Firouzja and Artemiev.
"Right now I am more focused on the opponents I face in the supertournaments. Firouzja and Artemiev are both wonderful talents and great players. It is a fun that Alireza came to the first Shamkir tournament as a chess fan, and now he is a famous grandmaster. I am happy for him. Artemiev is a very original and interesting player. We'll see how far he can go. But I do not feel being threatened yet."
– Do you agree that we are living in the epoch of Magnus Carlsen? – they asked the world champion.
- I do! – he answered, smiling.
Answering the question of Zinedin Zidan's return to Real, the champion simply gave it a two thumbs up. However, it was a thumb down sign for Ronaldo's departure.
Carlsen's followup event is GRENKE Chess Classic, beginning in Baden-Baden on April 20.
"It gives me not that much time to rest, but when you show good results, you want to keep going," concluded Magnus Carlsen.
Playing White, Alexander Grischuk defeated David Navara in the Caro-Kann Defence. The Russian GM noted that Black lost several tempi in the middlegame, as well as misplacing his knight. David Navara traded two minors for a rook in a worse position, but obviously misjudged the consequences and was losing afterwards. Alexander Grischuk converted his edge with a precise play.
After the post-mortem the Russian GM did not conceal his disappointment with the Karjakin – Carlsen outcome as ruining his dream of winning the event.
Topalov – Ding Liren was the Ragozin defense and was the longest game of the round. It lasted as many as 110 moves. Black snapped a pawn in the rook ending, but it was still gravitating heavily towards a draw. However, the Bulgarian GM lashed out with an aggressive move, and it was before long that he had to give up his rook for the opponent's passed pawn. In return, he was forced to promote his pawn to a knight only. The Chinese was optimistic of this theoretically drawn rook vs knight ending, probably recalling Kamsky – Bacrot of 2006, and the opponent did commit a blunder. This victory has landed him into the share of second with Alexander Grischuk and Sergey Karjakin.
Teimour Radjabov and Viswanathan Anand was opened with the Queen's Gambit, in which White got a promising position despite not having anticipated the 11…d4 line to happen in the game. Despite the early exchange of queens, the ex-world champion needed to come up with precise play, which he managed to do to equalize. The game ended in a draw by repetition on move 33.
I asked the grandmasters if they thought that chess could be promoted via TV and mass media Both GMs agreed that chess has been significantly popularized lately. Teimour also voiced for reduced time control if chess is to be given wide coverage in the mass media because mistakes, blunders and associated emotions would certainly sparkle spectators' enthusiasm.
The tables were constantly turning in Giri – Mamedyarov, opened with Giuoco Piano. Shakhriyar was evaluating his middlegame position as bad for him, especially if Giri were to stick to the most principled continuation. The Dutch GM evaluated Black's middlegame chances higher because of an extra pawn. In general, the opponents traded many jokes about each of them being out of shape at this event.
Tournament standings after round 8:
1. Magnus Carlsen - 6; 2-4. Sergey Karjakin, Alexander Grischuk, Ding Liren - 4.5; 5-6. Viswanathan Anand, Teimour Radjabov - 4; 7-8. David Navara, Veselin Topalov - 3.5; 9. Shakhriyar Mamedyarov - 3; 10. Anish Giri - 2.5.
Pairings of round nine:
Anand - Topalov, Navara - Radjabov, Carlsen - Grischuk, Mamedyarov - Karjakin, Ding Liren - Giri
The final round nine starts at 13:00 PM Moscow time.
Source: ruchess.ru