News
Shahriyar Mammadyarov: "Vugar Hashimov offered me a draw..."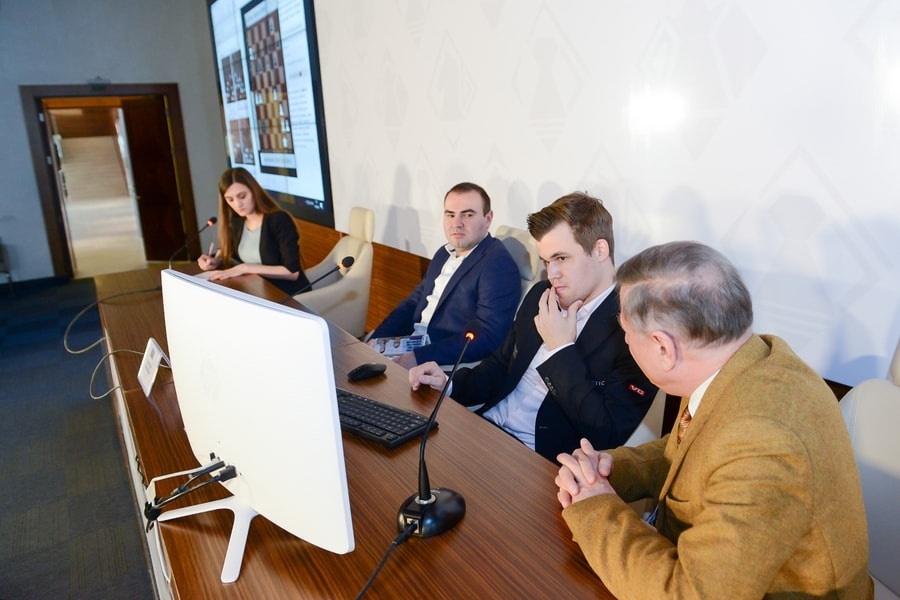 In the first round of the ShamkirChess 2018 Super Tournament in the memory of Vugar Hashimov, Shahriyar Mammadyarov (Azerbaijan) played draw with the World Champion, Magnus Carlsen (Norway). Mammadyarov has talked about the game in the press conference after the party: "I had not got any precedence. I played three years ago in the Shamkir Tournament with Carlsen in the first round. That time, I was defeated with black pieces. In that tournament, I had played very bad. If I do not make any mistake, overall, I had lost four games in that tournament. This time, Magnus was very careful as he is always. Draw is a normal result, if you play this kind of competitor".
Stating very appealing opinions about late grand master Vugar Hashimov, Shahriyar Mammadyarov shared his memory about him: "I was 9 years old. We met 8 years old Vugar in the Shaki Tournament. I had just started to chess. He was already the World and European Champion among teenagers. I mean, he could defeat me easily. Before the game, he said me that, let us play a draw. I surprised. How would it be possible to offer a draw intentionally? Vugar said me that, which move I will come, just repeat me. We commenced to the game, after repeating all his moves, I saw that I am losing the game. If I repeated one more move, I would lose the game. Going to another part of the hall, I asked Vugar that, I am going to lose the game. I mean, he could checkmate me after the last move. Vugar convinced me. He said me that repeat my move, I will not beat you. As a result, the party ended with a draw. After the game, his father Gasim was very furious about his draw. After that game, we went to eat an ice-cream. I can talk about him for long hours. Vugar was a good friend, and a strong grand master. He is always in our souls.

Press Service of the ShamkirChess Tournament