Media
Shamkir, Round 9: Magnus makes it five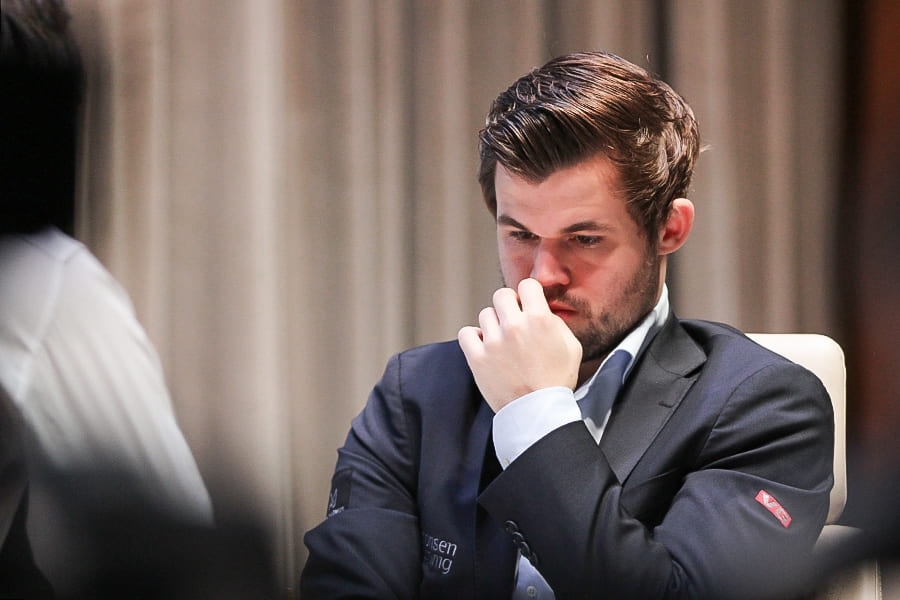 by Antonio Pereira
4/9/2019 – A third consecutive win in Shamkir meant Magnus Carlsen finished on 7 out of 9, two points ahead of his closer pursuers, with an out-of-this-world rating performance of 2988. His last victim was Alexander Grischuk, who was duly overrun both on the board and on the clock. The rest of the games finished drawn. LAWRENCE TRENT took a closer look at the final encounters of the sixth Gashimov Memorial.
The cherry on the cake
It had nothing to do with his opponents anymore — Magnus Carlsen was only pushing his own boundaries in Shamkir's last round. His superiority was only briefly challenged during the tournament, and his final three victories were crystal clear demonstrations of what he is capable of when in form. Already head and shoulders above his opponents in the ratings list, he managed to gain 15.8 points after nine rounds.
His win over Grischuk was also his 50th straight classical game without a loss — the last time he was defeated was on July 31st, when Shakhriyar Mamedyarov beat him prior to getting first place at the Biel grandmaster tournament. His rating performance at the 6th Gashimov Memorial was among his most spectacular ones, as pointed out by Tarjei J. Svensen:
3002: Nanjing '09 (8 out of 10)
2994: London '12 (6½/8)
2988: Shamkir '19 (7/9)
2981: Shamkir '15 (7/9)
2930: Wijk aan Zee '13 (10/13)
2918: Bazna '10 (7½/10)
The World Champion will be back in action shortly, as he will lead the field at the GRENKE Chess Classic starting April 20th. In an interview with the Norwegian portal VG.no, Carlsen stated that he is glad that 2845 (and not his unofficial 2860 live rating) will be used at the upcoming tournament, where a more widespread list of participants means he will need a better score to "defend" his stratospheric rating.

At work... | Photo: Official site
Against Grischuk, Magnus avoided going into a Berlin endgame by choosing a line with 4.d3, and the players reached a queenless middlegame after 13 moves. Time-pressure addict Grischuk knew he was facing a player on a roll and thought long and hard before giving up the pair of bishops: Read more...
Source: chessbase.com