Media
Carlsen Wraps Up Gashimov Memorial With 'Stellar Performance'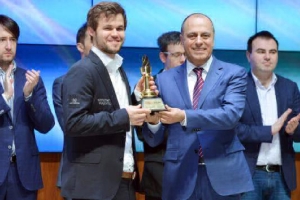 Having already secured victory yesterday, Magnus Carlsen finished the Gashimov Memorial in style. On Tuesday he defeated Alexander Grischuk to finish two points ahead of the pack, something the chess world hadn't seen for 4.5 years.
After drawing his own game very quickly, Anish Giri said: "It looks like today the only one who will really fight is the one who doesn't have to fight anymore, that Magnus will be the only one who will really go for it."
Carlsen did go for it, and his fighting spirit was rewarded with a third win in a row. He finished on 7/9, the most dominating victory since Fabiano Caruana's win at the 2014 Sinquefield Cup. At the closing ceremony, Carlsen called it one of the best tournaments he had ever played "both in terms of performance and also of quality of the games."
Today's tournament achievement, 12 points shy of a 3000 performance rating, evoked superlative reactions from some of Carlsen's colleagues in Shamkir.
Teimour Radjabov: "A stellar performance, really unique. Carlsen at his best."

Grischuk: "I think Magnus played just amazingly well today."

Grischuk was impressed by his opponent's play. | Photo: Shamkir Chess.
As always, Tarjei Svensen of Norway was quick to provide some statistics. For instance, Carlsen's performance in 2019 is 2927 (+10 =12 -0) and he has been undefeated for 50 games in a row.
Carlsen's new virtual Elo rating is 2861, which is just 21 points below his career-best rating of 2882 from May 2014. The last time his rating was this high was in June 2015, when his Elo was 2876.
He is now 44 points ahead of number-two Caruana. The difference between Carlsen and the rest of the world that hasn't been this high since September 2016 (when Maxime Vachier-Lagrave was world number-two, also 44 points behind). Read more...
Source: www.chess.com