Media
Home-cooked Victory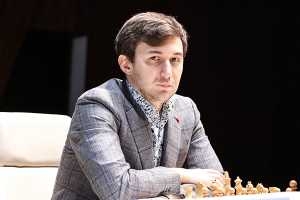 Eteri Kublashvili's report from Round 6 of the Vugar Gashimov Memorial
A rest day in Shamkir proved a very exciting experience full of events. Everyone willing could take up FIDE President Arkady Dvorkovich's initiative to play basketball.
After lunch, almost all participants of the Vugar Gashimov Memorial were giving simuls to children from all over Azerbaijan. One of Carlsen's opponent in simul was Vugar Gashimov's nephew Hanlar, who put up decent resistance to the world champion. A 10-year-old Zarifa Abbasova, Djakhangir Agaragimov's student, managed to make a draw with Anish Giri. The grandmaster spoke highly of his opponent's performance in this game.
There was, needless to say, nothing doing without a traditional football match, which is always prepared for meticulously and well in advance. This round robin competition featured four teams – Chess Players, FIDE, Organizers, and ACF. The Chess Players were represented by Magnus Carlsen, Alexander Grischuk, Denis Khismatullin, Veselin Topalov, and Peter Heine Nielsen. The FIDE team was headed by Arkady Dvorkovich and Mahir Mammedov. Faiq Hasanov was playing for the ACF team, and there again happened another accident on the field with him running into Magnus Carlsen, which had no serious consequences this time around. However, triumphing with two wins and a draw were Organizers led by Akshin Akhmedov, Dzhabrail Guliyev and Dzhoshkun Yagubov. They were awarded with a nice golden cup.
Photos from the football tournament
Making ceremonial move one in Ding Liren – Carlsen in round six was Vugar Gashimov's elder brother Sarkhan. The encounter ended in a draw. The grandmasters opened into the Gruenfeld Defense 3.g3, which Black emerged out of in a bad shape. At the press conference, I reminded Carlsen of Alexander Grischuk's precaution about the dangers latent in this Gruenfeld line. He replied about having taken notice of the Russian GM's words, but not paying due attention to this warning of his.
Magnus Carlsen, "I got a difficult position out of the opening. I do not know what has gone wrong, but my position was ugly indeed. I think the danger of this symmetrical position is that an extra tempo is sometimes likely to become an important factor, especially if White gains control over the c-file. I did my best to keep afloat and found an important move 23…Re8. This is an obviously ugly rook ending to transpose to, but I had no better ideas and saw no other ways leading to equality.
The world champion said that White could have played more precisely to pose more problems for him. The opponents showed the line transposing in to a rook ending with White's up a pawn, but concluded it was a draw. In the game, Carlsen achieved a draw with equal pawns on the board.
Playing Black, Shakhriyar Mamedyarov got a full-fledged play against Veselin Topalov in the Zaitsev Variation of Ruy Lopez. In the middlegame White gave up two pawns, and got a compensation in the form of having Black's pieces tied down. Nevertheless, it took no more that one error to land the Azeri GM in a losing position.
Topalov – Mamedyarov
29. Ra1 Qc5?
Maintaining equality was 29...Qe7.
30. Rdc1!
Mamedyarov admitted that this and the following moves had escaped his radar.
30…Rc4 31. Qd1! Ne4 32. Bxc4 bxc4 33. Rxc4. Black resigns.
Sergey Karjakin has caught up with Magnus Carlsen after winning a textbook game from Viswanathan Anand. The game opened with the Queen's Gambit and was following in the footsteps of Aronian – Caruana of 2018. This line was employed by Caruana during his championship match against Carlen, but Magnus shied away from the most principled line in the opening.
Sergey uncorked a novelty on move 31. The Russian expressed confidence in Anand's preparation, adding that had the latter known the dangers in store for him after 31.c5, he would have given a deeper look into the line.
A number of trades resulted in the following endgame position:
Karjakin – Anand
At the press conference Sergey shared that 40. Ra4 managed to provoke 40…h5, which is pushing the pawn away from the main forces and making it vulnerable. He also characterized White's 41. Ra6!, as an important followup reintroducing pressure along the sixth rank.
41…Ne7 42. Nd4 Nf5 43. Ne2! Rc4 44. Rg6+ Kf8 45. Rg5 etc. It was before long that White did away with the h-pawn in a technical manner, at which point Anand resigned without going through the stage of conversion.
Coming to Shamkir to root for Sergey is his wife Galiya and his son Alexey.
The Karjakins with Hojat Asadullayev
Anish Giri and David Navara played out the Ragozin Defense. The Czech GM said that he was well prepared for this game's opening. On move 12 White opted for the most principled line involving the b7-pawn capture, which two moves later made it clear that Black managed to solve all his opening problems and even emerge advantageous due to the better pawn structure. Nevertheless, the game ended in a draw by repetition. A draw was agreed on move 26.
I asked the grandmasters who had given simuls to children the day before if they recall having similar experience while still young rookie players. Anish recalled participating in a simul given by Olga Styazhkina in St. Petersburg; however, traffic jams leading to a too late start of the simul ended up in adjudging the games still in progress. Anish was down an exchange, while his neighbor was down a pawn. The neighbor's game was adjudged a draw, whereas Anish was given a defeat. What an unfair decision!
Meanwhile, David remembered being a 14-year old IM and ending up in Anatoly Karpov's simul by mistake – he managed to win that game from the 12th world champion.
Queen's Gambit Accepted was the opponent's choice in Grischuk – Radjabov. Alexander was happy about the opening. "I usually like my position when I am for choice," added the Russian GM during the press conference. However, White obviously misplayed it somewhere in the middlegame, and Black was in time with his kingside counterplay, which made the game double-edged. Teimour admitted that his king's exposed position was always a potential danger, but he was out of the woods when mass trades were over. The game ended in a draw by repetition on move 40.
Answering my question about having to readjust oneself when going from the classical to a one-minute format (that evening Alexander Grischuk was to play the match with Alexander Bortnik at the World Championship at Chess.com), the Russian told that playing well was more of a challenge. He admitted that only three players were good at the bullet format, them being Carlsen, Nakamura and Firouzja. Teimour added that Nakamura's bullet strength also had to do with the super equipment used by him.
Sergey Karjakin, also a participant of in the championship at Chess.com, confirmed grandmasters' opinions and added about having played a training match with Alexander the day before and going down 2:18.
Tournament standings after round 6:
1-2. Magnus Carlsen, Sergey Karjakin - 4; 3-8. Viswanathan Anand, Ding Liren, Teimour Radjabov, Alexander Grischuk, David Navara, Veselin Topalov - 3; 9-10. Anish Giri, Shakhriyar Mamedyarov - 2.
Pairings of round seven:
Radjabov - Topalov, Anand - Grischuk, Navara - Karjakin, Carlsen - Giri, Mamedyarov - Ding Liren
Source: ruchess.ru