Media
Gashimov Memorial: Carlsen Beats Giri, Back To Sole Leader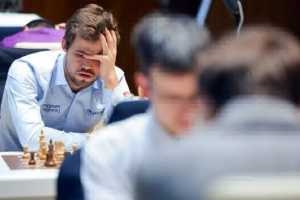 Magnus Carlsen is back to being the sole leader at the Gashimov Memorial in Shamkir, Azerbaijan. The world champion defeated Anish Giri today while the other four games ended in draws.
In the Game of the Day (especially in terms of results!) Carlsen defeated Giri convincingly, even though the computer showed at least one quicker win. In what looked like a rather innocuous English Opening, Carlsen found a plan that still brought him some play.
Carlsen: Usually when there are no knights on the board it's very dry and it's nothing for White..."
Giri: "That's what I also thought."
Carlsen: ..."but in this case I feel like I'm getting some quick play and at least practically it feels easier to play."




A convincing win for Carlsen vs Giri. | Photo: Shamkir Chess.
The plan involved the f2-f4 break, where Giri expected the d3-d4 one instead. The Dutchman regretted removing his bishop from the g1-a7 diagonal, and also that he didn't play ...f7-f5.
Carlsen sacrificed a pawn but got his f-pawn to the fifth rank, strong bishops, an active queen and an open g-file. All this was just too much, and his attack was quickly winning.
Instead of going for a killer blow, Carlsen went for an endgame instead (admitting it was "extremely prosaic") but helped by Giri's time trouble he won that easily anyway. Read more...
Source: www.chess.com