News
Magnus CARLSEN: "I would like to be a winner in each game"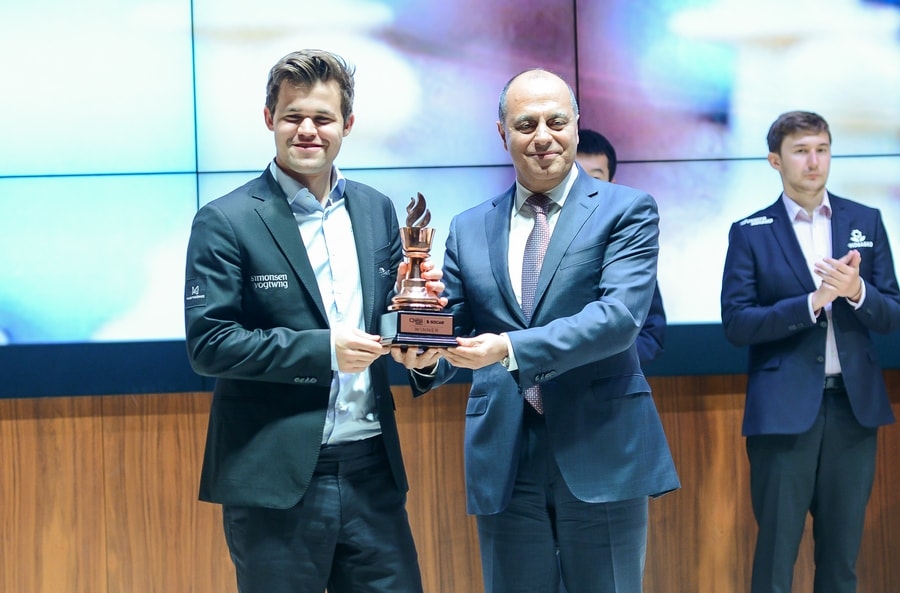 The Winner of the Memorial of Vugar Hashimov, the World Chess Champion, Magnus Carlsen has given an interview to the official website of the ShamkirChess 2018 Super Tournament.


- We congratulate you for your victory at the ShamkirChess Super Tournament in the memory of Vugar Hashimov. When you come to Shamkir, you win the competition…

- Thank you for congratulations. I am very happy that I am the winner of the ShamkirChess Super Tournament. In the beginning of the game, I could not show the game that I want. Only, in the last games, I played a bit comfortable. The game against Anish Giri which I won, maybe is one of the best games that I performed in Shamkir. Otherwise, IO should have admitted that, I did not see Magnus whom I want. I mean, I could not my all capabilities. Meanwhile, I very glad to win the main grant at the end.


- This is your third victory in Shamkir. Which of your victory do you think more difficult?

- I came to Shamkir for the first time in 2014. That time there was a very powerful staff of the game. After being defeating in two games, I came myself. The victories in a row helped me to hit the game with winning. The game in 2014 was as well as the first tournament in here. Therefore, I remember that game with a difficult competence. Although, there was not an easy competence in 2015. I remember my game with Wishvanatan Anand. There was a difficult situation. Our game with Anand was considered interesting for people. I won the game in that year, as well. This year but was different. I played a draw in the three games in a row. It seemed to me that, I could not win. In the beginning of the tournament, all the competitors were in the same positions. After three rounds, all the players had 1.5 scores. For me, it is not normal, not gaining the victory after three rounds. I was a bit upset. Luckily, I got what I wanted.


- Some people say that, there is no any chance for the competitors in most of the game where Magnus participates.

- (He laughs) Who has said this? It would not be right to say this. Simply, I like being the winner of all the games. Most of the times, I obtain what I really want, but believe me, it is not too easy. Some intense trainings are very crucial for this. At the same time, people work with me – my team has a lot in this victory.


-You countered with the Azerbaijani grand masters – Shahriyar Mammadyarov, Teimour Radjabov and Rauf Mammadov in Shamkir. I think that you were very furious for the game with the latter.

- No, I was not angry. The grand master that you said have been invited to the Shamkir Tournament, so it definitely means that they are in the strong players list. My rounds with the Azerbaijani players ended with a draw. In fact, I would like to win, simply I could not. Maybe the weather in Shamkir helped them. Mammadyarov, Radjabov and Mammadov were playing accurately enough. I got some chance in the game against Rauf, simply I could not realize my precedence. Rauf played well.


- After that game, you could not come to the press conference…

- I was very tired. I was upset about not being the winner of that game. Even if, the press conferences sometimes last very long. It really makes a person very tired, answering to the questions in the press conference after the game. Afterwards of the game against Rauf, I directly went to the hotel, and started to prepare for the next game.


- Your personal cook has come to Shamkir, as well. It is very interesting. Perhaps, you do not like the Azerbaijani dishes provided at the hotel?
- There are dishes both from the Azerbaijani cuisine and European. There is no any problem about the food. Because, the organizers have Thought out elaborately all the details. Therefore, I feel an obligation to thank to the Organization Committee. I know that if I wanted a dish which is not on the menu, they would prepare it for me. Simply, I started to work with the cook a few years ago. Sometimes I experience some problem about the food. In that case, my cook helps me. The Azerbaijani and Turkish cuisine are very similar. I like some dishes in the Turkish cuisine. Simply, I try to avoid some dishes with full of fat. At the same time, although, I like sweeties, I try to eat less.


- Your physical preparation is drawn an attention. You played both basketball and football in Shamkir. Which of them do you like most?
- Generally, I love sport very much. Thanks to them, they provided me a condition to play. There are all kind of opportunity and condition to play chess in Shamkir. I believe that, tournaments must be held in this kind of quiet places. I watch the games of "Real" in football. I am also interested in basketball. The football tournament held in Shamkir in our day off, and our team ("World Team" contained of foreign players) won the competition. I performed my skills there.


- Is it not difficult for Magnus Carlsen to play chess when "Real" lose the game?

- I love that team very much. However, it is very difficult to compare the chess with it. Certainly, I feel sorry when "Real" lose the game. Therefore, I prepare for my chess game attentively.


- You know very well how to play football, as well. Can we say that, the Norwegian football team lost a great football player as you?

- (He laughs) It is already late. However, if there is an invitation, I may play in the 7th division. I believe that, I can play in that level at least.


- How will you remember Shamkir – Azerbaijan?

- I have been to the capital city, Baku and Shamkir. I have passed through Gandja. I have like the mountains in Shamkir. It seems to me that, a human being can relax there. Those mountains remined me of Norway. Therefore, after the tournament, we have planned to stay two more days here. Overall, it is possible to think about chess comfortably in Shamkir.


- You are going to meet the American representative Fabiano Caruana in November. When would you like to start the preparation against him?

- It has asked me a lot in Shamkir. I am ready for all recommendations. My team is thinking about this. I believe that it is not right to tell this kind of issues to the press. Another tournament which is going to be held in Norway is waiting for us.


- The Azerbaijani grand master, Shahriyar Mammadyarov had a high chance to win in the Candidates Tournament held in Berlin. Dis you watch the competition?

- When I had a time, I watched. Shahriyar is a good grand master, he seemed to me very convinced in the beginning of the tournament. Generally, there were very interesting games in Berlin.


- It is very interesting to us that, if Magnus Carlsen has a lot of female fans?

- The chess is watched by both males and females. Therefore, it is normal. All the chess lovers are interested in all chess tournaments. My attitude to the women who are interested in the chess is good. I evaluate highly my fans, people who get exiting during the games for me. It is very good to see them happy as me when I am winning the game.


- I would like to ask you something about your personal life. Does Magnus love only the chess now, or he has any nice lady in his soul…

- I do not like to talk about my personal life. Nevertheless, the media improves quickly day by day. Any news spreads fast.


- The Shamkir Tournament is dedicated in the memory of Vugar Hashimov. We would like to hear your memories about him…

- I should have thought a bit. We played frequently with Vugar in the tournaments. He was a positive person. When I heard his news, I was very sad. I used to know his as a good grand master. His debut options were distinctive. Competing comfortably against him was not easy. He could change the situation in every minute. I consider holding this kind of event in the name of Vugar a s a very positive manner. It means that Azerbaijan does not forget Vugar. The Shamkir Tournament is being organized appropriately to his name.


- In the end, I would like to thank you for the interview.

- I would like to tell my best regards to the people who has helped me and my team during my stay in Shamkir. I have won three times in Shamkir. Therefore, I am always ready to come here. Because, in Shamkir and generally in Azerbaijan the chess is loved by many.



Press Service of the ShamkirChess 2018 Tournament