News
Magnus Carlsen: "I am not satisfied with the game regardless of my victory"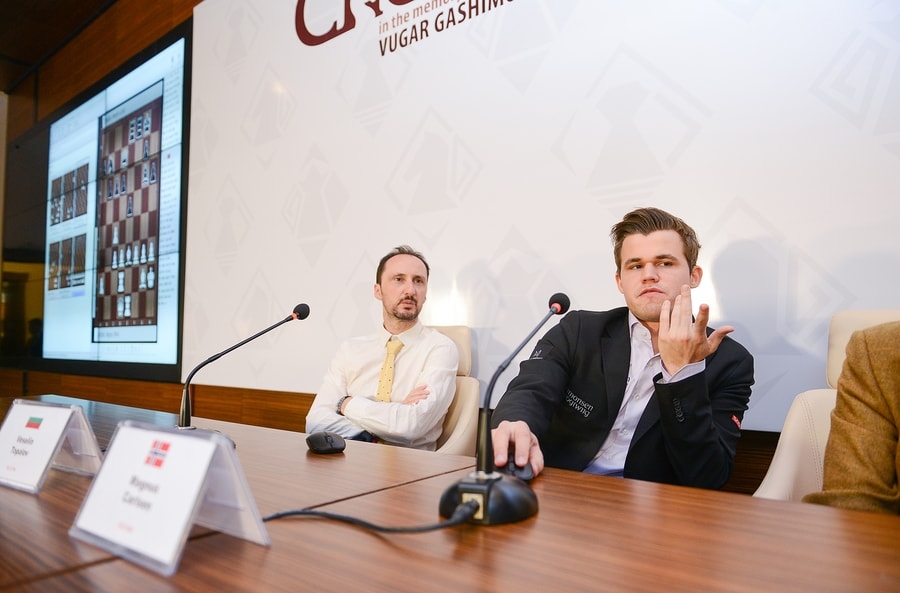 The seventh round of the ShamkirChess 2018 Super Tournament in the memory of Vugar Hashimov remembered with the change of the leader at the tournament. The Press Service of the Tournament reports that, the World Champion Magnus Carlsen climbed to the top of the Tournament Table after defeating the Bulgarian representative Veselin Topalov.
The Norwegian World Champion expressed his dissatisfaction of the game at the press conference: "I have prepared very seriously to this game. I got the precedence after my debut and started to plan the attack. Although, my opponent was attentive, he had some faults. As I was controlling the situation, I could play for a victory till the end. Victory always brings happiness. I am very happy. Simply, I did not satisfy with the game. I have made numerous mistakes. Although, I counted moves correctly, I watched an unexpected game. I should not have made plethora of mistakes.
One victory changes the situation on the Tournament Table, though the competence is going on. The last two rounds will be decisive. I tried to make a turning point in the tournament. However, to say what will happen after all nine rounds, is difficult now. My aim is to be a champion again in the Shamkir Tournament".
The Bulgarian grand master said that he accepts his lost normally: "Magnus was playing very well. For a while, I had a belief in surviving the game. Simply, Carlsen did not create any opportunity. He performed very well. I accept my losing as a normal situation. Hence, my position is normal on the Tournament Table is normal after seven rounds. I was on the top of the tournament after defeating Shahriyar Mammadyarov. Now, Magnus is already a leader. I think that I am not on far from the competence for the high places at the tournament. It is very essential to win at the last two rounds".

Press Service of the ShamkirChess 2018 Tournament