News
Shahriyar Mammadyarov: "I felt an unexpected support from Berlin"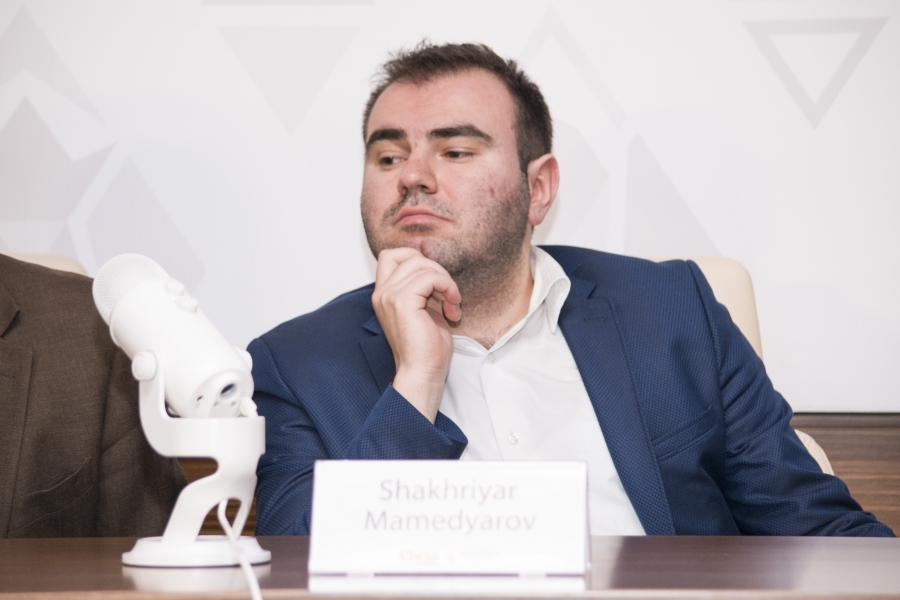 Shahriyar Mammadyarov, the Azerbaijani grand master, said in an interview to the official website of ShamkirChess 2018 Super Tournament.


- We would like to start talking about the Candidates Tournament held in Berlin.
- For the first time, I was supposed as a favorite at the Candidates Tournament. At least I was one of the candidates to win because I was a favorite. Therefore, many were expecting me as being the first place in the match in Berlin. Chess lovers believed in me. Course of the tournament showed that we have a chance to win. It was difficult to anticipate, because there was a strong team. Before the match, I said that the favorite chess player could be the last, or vice versa. Because each tour was important.
The tournament started well for me. In the first round, I won Karyakin. Then we had good games. Simply must be admitted - Caruana showed incredible as a good struggle. There were many victories with black. In such a competition it is an important advantage with black colors. In order to be the winner of the competition, the most important game was against Ding Lirena.
I made an incredible risk. I did not win several consecutive victories. At that moment, I realized that we need a victory. I went through the unreasonable risk at the game with Liren. I was going to become the leader in a draw at the tournament table. I just wanted to win. Because I was going to defeat my opponent half a point, I did not think about losing, and risked it. This game was a very heavy blow. Later, I felt good when I won Grischuk. Simply playing with Ding was one of the most severe defeats in my career. If I won, I would probably win the Candidates Tournament.


- What was the surprise of the Candidates Tournament for you?
- It was a surprise from good and bad aspects. Son and Aronyan demonstrated a lower play than expected. They are very strong grand masters. They just did not look at themselves in Berlin. In the last rounds, I felt that some of them lost their enthusiasm. Karyakin, on the other hand, made a return. After two defeats, everyone thought that Sergey had no chance. But Karyakin succeeded in gaining leadership after four consecutive victories. Sergei showed great character. It was the most exciting Candidates Tournament that has been held in recent years. On the eve of the final round, four grand masters kept their chances of winning.


- Armenian chess player Levon Aronian made a very poor impression. He was defeated in both matches with Caruana.
- Caruana won both games with Aronyan. Me and Karyakin were draw in the two matches. So, Fabiano scored 2 points, and we got 1 point. It was a great advantage for Caruana. It is a great chance to get 2 points from one opponent in such tournaments. In the second round, Aronyan had good moves in the party with Karuanay. Even Karwan did not have a draw chance. It was seemed difficult to defend. However, Aronyan did not see this move and lost. He also played a very weak game with Kramnik. He is a very strong grand master. My game was not good with him. I did not win any advantage in both colors.


- What was wrong with Shahriyar to win the Candidates Tournament? Maybe it was not so lucky for you.
- If the fate of the championship in such a prestigious competition depends on one game, then the tournament has been lucky. It would have been better off if I had won the Ding. I struggled until the end. I increased my rating in the Candidates Tournament. But I do not agree with the word of fate. Today, we must note that Karwan is a worthy of the first place. He was in a very good form. Though he lost to Karyakin but did not lose his game. He defeated Aronyan and Grishuk. It is interesting that we participated in the Wejk Aan Zee Super Tournament in January. Karuana played there badly. Some people said that he continued his weak performance. Apparently, He already was thinking about the Candidates Tournament in Wejk Aan Zee. On the contrary, he showed deserved to win the game.


- Have you been satisfied with the training?
- Our participation in the Candidates Tournament is confirmed very late. It is known that we will be in this competition by the end of November. It is only 3 months. But we give agreement to the tournaments during the year, this factor affects the preparation. Before the Berlin Olympics, I played against the youth Russian grand masters in Moscow. I participated in the competition in China. There was one competition in Saudi Arabia, then I struggled in Wejk Aan Zee Super Tournament in Berlin and Bundes League in Germany. I attended at the Aeroflot tournament in Mikhail Tal Memorial in Moscow. I agreed to participate in many competitions. These competitions took 2 months. I was able to prepare for the Candidates Tournament for only 20 days. There was very little time. During this time, I held a training session in Gakh. During my non-training days my assistants worked on the assignments. In the future, it will be very good if the participants are confirmed earlier.


- You already are 33 years old. This factor will not prevent you to get license for the Candidates Tournament next season. So, you don't give up?
- Age is different in chess. At the age of 33, playing in Mundial means that it is the last world championship. It's hard to play at the age of 37. Age of 33 is considered good in chess. Players as Viswanathan Anand, Boris Gelfand, can be answer of your question. Anand exhibited an amazing game at the age of 40. Even when he was a world champion, he was not too old. You know that I started chess late. I started playing in tournaments late. I consider myself very young in chess. Over the next 2 years, a lot can change. Winning the Candidates Tournament has recently become very difficult. I will continue my training. After a year it will seem what a form I will be. I feel energy and power in myself. I do not think I'm ready. If I were 100 percent ready, I would win in Berlin. But my thought does not change. I will try in the nearest years to get license for the Candidates Tournament and finish this tournament as a champion.


- How the rating is important for the chess player?
- Factor is very important. If you do not have a high rating, you will not be invited to strong tournaments. I feel happy to be the second in the world. However, there is Magnus in ahead. Karlsen is a very strong opponent. He is a headache for everyone. He is world champion in a classic, rapid and in blitz. He is broad-minded and strong opponent. It is very difficult to win him. As I'm second in the FIDE rating, one of my main goals is to rise to the first place.


- You play more restrained. Do not take risks. Is there a reason for the change?
- In recent tournaments everyone says that return to the old style of play. They also said it in the Candidates Tournament. Chess players missed the same Shahriyar very much. They say that being aggressive is not enough. But it looks different. I risked with Ding, and the result is obvious to everyone. Risk is also important to achieve. But in the required game. It is impossible to rise five in the world rankings with aggression. This Shahriyar lives in my inner. Perhaps someday Shahriyar who takes a risk will return. A lot of think that I have started to look like coaches whom I work with. I have been working with a Caliphman and Dreev for a while, they consider them.


- Did you feel the support of Azerbaijan and foreign countries in Berlin?
- At the time of the tournament, I used less phone. During weekends, I was spending 2-3 minutes on social networks. I've seen lots of shares. In my opinion, Azerbaijan has never such supported its grand master. I think everyone believed that the victory was very close at the Candidates Tournament. I felt the support I have never seen.


- You are second-time winner of Vugar Hashimov Memorial in Shamkir. This time, Magnus Carlsen, the champion of the first two years will also take part. How do you evaluate chances to win against at Super Tournament?
- Very interesting staff has been formed. I've been defeated twice in 2018. One of them is Anish Girin and another is Ding Liren. Both will compete for high places in Shamkir. Magnus does not need an introduction.Veselin Topalov, Sergey Karyakin are among the world's strongest grand masters. David Navara has an aggressive game style, which can stop any opponent. I really want to win in the 5th tournament. Because it is other feeling to be first in the competition which Carlsen participates in.
I thank to the organizers. They invited only the prominent grand masters. I would like to have a traditional tournament named after Vugar Hashimov.


- You want a revenge for defeating Ding Liren in Berlin ...
- I have no victory over my two colleagues in the world chess. Ding Liren and Viswanathan Anand. We have few games with Ding. For the first time in Berlin he defeated me. But I've never won him. I have not coped with them in classical chess. When we say Revange, we will meet in Shamkir. I can not predict how it will end.

Press Service of the ShamkirChess Tournament