Media
Stellar Level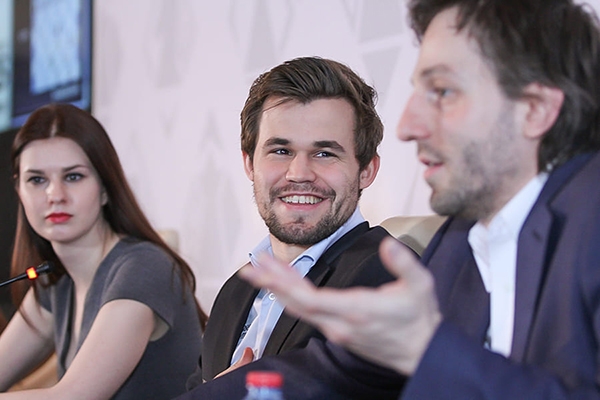 Eteri Kublashvili's final report from the Vugar Gashimov Memorial
This is it - one of the most interesting supertournaments has come to an end in Shamkir. Round nine games of the sixth Vugar Gashimov Memorial were being played on April 9.
Making the symbolic first move in Carlsen – Grischuk was FIDE and ACF Vice-President Mahir Mammedov.
It happened to be the only decisive game of the round even if the world champion had won the event with one round to go. Opened with the Anti-Berlin, it was roughly equal until Black decided to embark on a queenside offensive. Both grandmasters condemned the plan launched with b5. Alexander said about his slight miscalculations in lines that gradually turned his position from an unpleasant and difficult into a lost one.
This victory saw Carlsen finish the event with a magnificent 7 out of 9!
Ding Liren – Giri lasted less than half an hour. The Chinese grandmaster explained that his lengthy encounter with Topalov left him no time and energy to prepare something special for the game, making a draw in the Ragozin Defence, well-known to both opponents, the most logical outcome. Anish Giri joked that even that amount of the Chinese player's efforts was enough to seal his bottom place in the tournament table. However, "someone has to finish tenth," noted Anish.
All in all, the Dutch GM could not name any specific reason of his underwhelming performance. "I have done my best in the hope of a better result and tried to fight in each game, but... In certain games problems would pop up as if out of the blue (at least for me), and sometimes I would fail to see everything that I needed to see in the position. Sometimes, you just have to take it as is," shared his thoughts Giri.
Shakhriyar Mamedyarov vs Sergey Karjakin was a draw in less than half an hour. The Russian shared that having +2 he was counting for more, trying to start a big fight with Carlsen for that reason. However, forgetting some home-prepared lines proved his undoing. As if a protagonist from One Flew Over the Cuckoo's Nest, Sergey said: "At least I tried." Sergey admitted that more attention was paid to prepare for 1...e5, but the game was opened with the Sicilian. Magnus is known to play many lines in the Chelyabinsk variation, and Sergey could not recall everything. When it came to switching into defensive, he continued playing actively, which backfired later.
Shakhriyar is not happy about his performance in this difficult for him tournament, going through hard time in almost every game. The GM also praised the excellent management of the event and told about taking a two-day's rest before his birthday, upon which he would start preparing for subsequent competitions.
Ding Liren and Sergey Karjakin ended up sharing second. Better tiebreakers have landed the Chinese second.
The Caro-Kann Defence was the opponent's choice in Navara – Radjabov. The Azeri GM characterized his decision to resort to this opening not a clever one, mildly speaking. Instead, he anticipated 1.d4. Black's out of the opening position was not a walk in the park, and it was only White's inaccuracy that allowed him to equalize. The game ended in a draw after Black's move 40.
David Navara admitted that he had had a limited amount of training with his second going into the competition, and blamed it for having had a hard time in this event. He felt exhausted towards the end. The modest Czech GM also added that they should have probably invited Artemiev instead of him.
Teimour Radjabov objected, saying that Navara – Ding Liren could truly be named the tournament's gem. Teimour also congratulated Magnus Carlsen on a spectacular victory, praising highly this world champion's outstanding achievement and stellar level. The Azeri GM also joked that he seems like gradually replacing Sergey Karjakin as a defense minister.
Viswanathan Anand and Veselin Topalov played out Giuoco Piano. Black solved his opening problems in the middlegame by carrying out a central breakthrough. Topalov said that but for 15…d5 Black's position would have been completely grim. In the game, all tension gradually fizzled out, and a draw by repetition was agreed on move 31.
Veselin is not happy with his performance and final standings. He believes to have underperformed. Anand said about himself that if he were to show better results, he needed to improve yet further.
Final standings:
1. Magnus Carlsen - 7; 2-3. Ding Liren, Sergey Karjakin - 5; 4-6. Alexander Grischuk, Viswanathan Anand, Teimour Radjabov - 4.5; 7-8. Veselin Topalov, David Navara - 4; 9. Shakhriyar Mamedyarov - 3.5; 10. Anish Giri - 3.
After the tournament I had a brief interview with one of the chief organizers, FIDE Vice-President Mahir Mammedov.
– What is your impression of the players' performance? Have there been many spectacular games this time around?
– There have. Honestly, I would feel somewhat gloomy recalling the last year's edition.
– Was it before of after round one, with all five games ending in draws?
– Before, but round one only made this feeling stronger. There was even a sort of a child taking offense feeling – here we are going all out for them, and they are paying us back in such a way. However, this is when the hell broke loose! (laughing) 15 decisive games is quite a result! It amount to 33%.
Magnus Carlsen has never failed to surprise, and this achievement of his is simply amazing! His first triumph here in Shamkir saw him rising to his record high of 2889. This time he has also increased his rating by a massive number of points, him being heaven high above all others even before that! This is a XXII category tournament and has no weaklings, but just look at the disparity between his +5 and the second place's+1. This is massive!
All in all, you cannot but rejoice at the way in which the world champion is representing our sport!
– FIDE President Arkady Dvorkovich visited the tournament in Shamkir. What difference did his presence make?
– His visit was very productive, and he himself was very pleased with it. FIDE President embraced two countries with one visit – he transited twice through Georgia and lingered in Azerbaijan for as many as two days. The day of his visit saw Alexander Grischuk score his first tournament victory over Veselin Topalov. The following day Arkady Vladimirovich spent to the full benefit of himself and all of us. There were taking place simuls, basketball matches, a football tournament, in which our president is entirely in his element. In a word, he made a splash and left for Georgia to make another one there (laughing).
– Which place does Azerbaijan take in the new edition of FIDE?
– Azerbaijan is represented in FIDE by me, no matter how immodest it may sound. I was in Dvorkovich's ticket before, and being part of the team and winning the election is worth its weight in gold. I will not delve into the topic of elections now.
Again, Azerbaijan's representation in FIDE is increasing markedly. The Presidential Board is trusting our specialists, which I am only happy about.
Finally, I hope that the upcoming Presidential Board will take place in Baku.
Cooperation between FIDE and Azerbaijan has always been on a high level, which is given another boost now. We are looking into the possibility of running FIDE events, which are growing in number. We would like to see the event calendar finally settled, but this jigsaw is hard to complete. This year is witnessing an unstoppable chain of events. Chess players (and not from the top ten only) complain about too many competitions that leave them no time for rest and homework. This is good news! I hope this intensity means more money for chess players.
– You said at the press conference about negotiations being underway about the women's Grand Prix stage to take place in Azerbaijan. Does the next year's chess calendar feature the Vugar Gashimov Memorial?
– I dare add another indelicate remark. Many reputable people have visited and some are still here, including the Wijk aan Zee tournament director Jeroen van Den Berg, and they all have agreed that for many reasons Shamkir may be considered the best supertournament of the current calendar. This is about lineup, playing hall, hotel, and the infrastructure, to name a few.
– Which means that...
– Which means that we need to keep it going!
***
The closing ceremony gave floor to Chief Executive of the Shamkir region Alimpasha Mamedov, Chief Executive of the Shamkir region Ismail Ismailov, FIDE and ACF Vice-President Mahir Mammedov, and ACF Vice-President and chief tournament arbiter Faiq Hasanov.
Vugar Gashimov's brother – Sarkhan – was traditionally in charge of awarding the Fair Play prize. This year's trophy goes to Magnus Carlsen. The world champion replied that he was not sure if he was the one deserving this award. Sarkhan Gashimov also awarded Faiq Hasanov for a many-year contribution to organizing the Vugar Gashimov memorial.
Ballet dancers performed a national dance, as well as carrying out a traditional tea ceremony that saw Sergey Karjakin.as a participant. Right from the stage a dancer descended into the audience hall and poured tea for Sergey.
Magnus Carlsen delivered a beautiful speech at the award ceremony in which he warmly thanked the organizers, adding that he considered the Shamkir tournament one of the best in his career and expressing hope that it would take place again the following year. We hope that the champion will be part of it as well!
Source: ruchess.ru