Media
Shamkir, Round 8: Unstoppable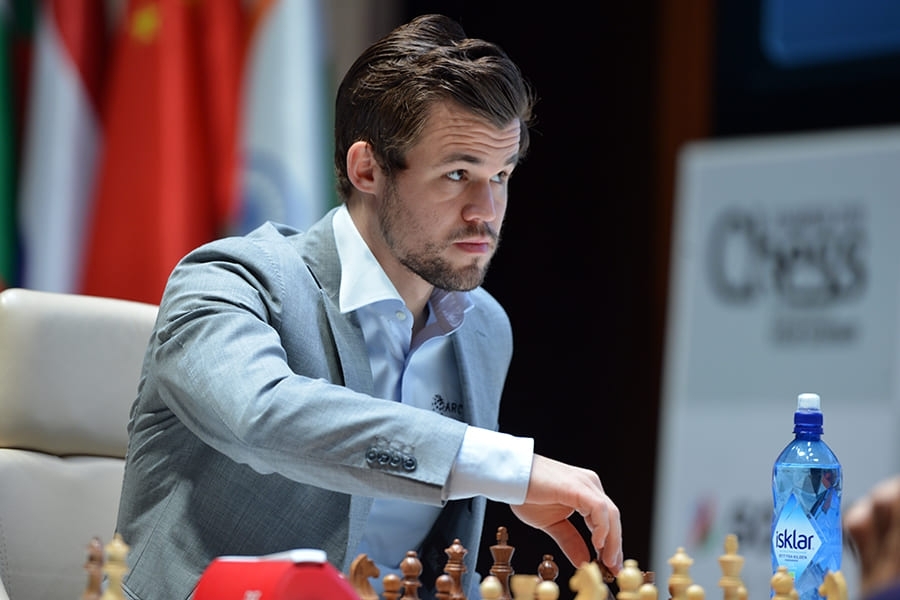 by Antonio Pereira
4/9/2019 – An implacable Magnus Carlsen beat Sergey Karjakin in the penultimate day of action in Shamkir to secure the title with a round to spare. This is the World Champion's fourth triumph in four attempts at the Gashimov Memorial. Alexander Grischuk and Ding Liren also won and now share second place with Sergey Karjakin, a point and a half behind the champion. LAWRENCE TRENT recapped the action of the eighth round. | Photo: Official sit
In top form
The highest-ever live rating was achieved by Magnus Carlsen on April 21st, 2014, after beating Shakhriyar Mamedyarov and Hikaru Nakamura in consecutive rounds at the first edition of the Gashimov Memorial. After winning that event, Carlsen would return a year later to once again finish atop the standings, this time with an astounding 7 out of 9 score and a 2981 performance rating. Finally, in 2018, he gathered six points to get his third win in Shamkir. And now he has done it again.
On Monday, Magnus defeated his only pursuer, Sergey Karjakin, to clinch first place with a round to spare. So far, he has gained 11.7 rating points in Shamkir, widening the gap that separates him from Fabiano Caruana to over forty points, after having put his first spot in danger prior to last year's World Championship match. Carlsen's final opponent will be Alexander Grischuk, and a win against the Russian will allow him to repeat his incredible 2015 '+5' performance.
Magnus' happy place | Photo: Official site
In the game, Sergey courageously accepted to test Carlsen's World Championship leftover preparation in the Sicilian Sveshnikov. On moves 10-13 it seemed like a triple repetition would lead to an anti-climatic end to the highly anticipated encounter. However, Karjakin kept things going by repeating Caruana's 14.h4, and then deviated from Fabiano's path with 15.♗g5: Read more...
Source: chessbase.com