Media
Shamkir, Round 6: Karjakin beats Anand, catches Carlsen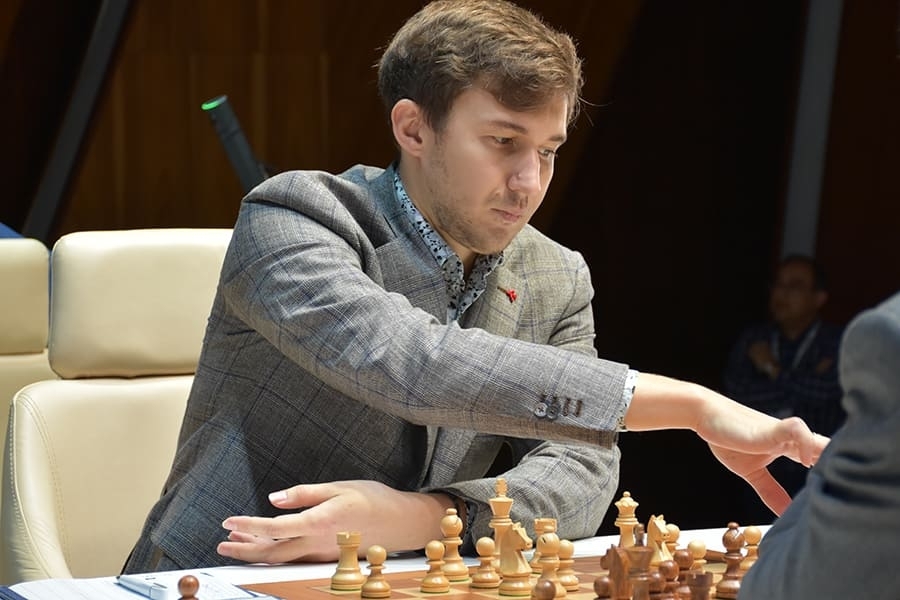 by Antonio Pereira
4/7/2019 – A theoretical battle ended up with Sergey Karjakin showing great technique to take down Vishy Anand in an endgame, thus catching up Magnus Carlsen at the top of the standings. The other winner of the day was Veselin Topalov, who defeated Shakhriyar Mamedyarov from the white side of a Ruy Lopez. Three rounds remain to be played in Azerbaijan, with co-leaders Karjakin and Carlsen set to battle on Monday. GM DANIEL FERNANDEZ analysed all the games. | Photo: Official site
Keeping up with theory
About ten or so years ago, seeing two elite players delving into a theoretical line well into the middlegame was a common sight. Nowadays, it is all about early deviations and getting playable albeit not superior positions with both colours. The 'Magnus effect', we might call it. In Shamkir's sixth round, however, we got to see a blast from the past, as Sergey Karjakin and Vishy Anand played no less than thirty moves of theory!
During the first phase of the games... | Photo: Official site
Until move 12, the players repeated a line that had already not worked for Anand in round two of this same tournament — Carlsen had gotten the better of Vishy after, much like today, getting a slight pull in an endgame. Apparently, this is a variation Vishy had as a main equalising weapon with Black for this tournament, however, as he and Karjakin followed Aronian v Caruana, from the 2018 London GCT final, until move 30. Read more...
Source: chessbase.com