Media
Shamkir, Round 7: There's no stopping Magnus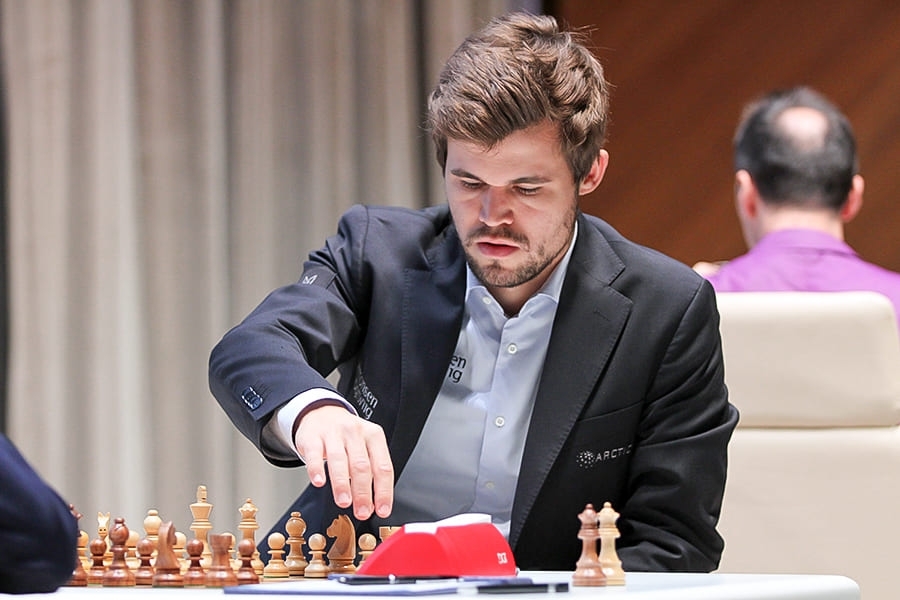 by Antonio Pereira
4/8/2019 – The one decisive game of round seven saw Magnus Carlsen defeat his Twitter arch-enemy Anish Giri to take the sole lead in Shamkir. It was a rather flashy win, which means Magnus will arrive in Monday's showdown against Sergey Karjakin in high spirits. With only two rounds to go, it seems almost impossible for any player other than Magnus or Sergey to win the event. Grandmaster YANNICK PELLETIER analysed the games in depth. | Photo: Official site
Two notable faces in the chess world

Elo ratings are a clear-cut indicator of chess strength...or at least is a clearer way to measure players' abilities compared to the methods used in other sports. Chess players and chess followers are not machines, however. A player's personality also has a say in how he/she is perceived by the public. Anand is known for his politeness, Aronian for his wry sense of humour and Nakamura for his straightforwardness, to give some examples. In that sense, Magnus Carlsen and Anish Giri have become known for their wittiness at the time of dissing each other, both on social media outlets and tournaments press conferences...
This friendly back and forth has resulted in them becoming two of the most notable faces in the chess world. Maybe that is why they were recently chosen to join forces and kick off a promotional campaign with the hashtag #MoveForEquality, using chess to support racial equality all around the world.
Is body language a tell-tale to detect a player's personality? | Photo: Official site
In their round seven encounter, Magnus moved first…with White. The game, much like a couple of previous games in Shamkir, followed a line previously seen at the 2018 World Championship match, until Anish deviated: Read more...
Source: chessbase.com